Whirlpool Washer Repair Services
Are you having problems with your Whirlpool Washer?
Give us a call today! All estimates are free with repair. Service call is only $49.
At All-Pro Appliance Repair, we specialize in Whirlpool washing machine repairs, whether you have a top loading or a front loading machine. If you live in the greater Washington D.C. area call us as soon as you notice a problem so we can send someone to your in a timely fashion and get your washer working again. We leave your home as clean as possible when we are finished repairing your clothes washer. We are dedicated to customer satisfaction, so call us for all your washer repair needs.
Whirlpool Washer Problems
The quicker we can arrive the sooner we can resolve the issue and prevent further problems, so it's important to call for service the moment you notice a problem. If there's a leak, we'll first check to make sure the hose is securely connected to the drain and whether there are any large cracks or holes. If this is the source of the problem, it should be a quick fix, but we'll take care of any other leak as well. When your Whirlpool washing machine fills up with water but then fails to move to the next cycle, whoever installed the drain hose may have done so at the wrong height. Whether you're experiencing something minor like these issues or some larger problem, you can be confident we'll fix it fast because we have years of experience servicing all types of washing machines and diagnosing all issues.
In the case of a complete breakdown, you'll obviously want repairs right away so that you don't have to deal with the inconvenience of not having a way to do your laundry for long. But before you call us, check the outlet to see if it is plugged in all the way and check the breaker box for a blown fuse. Once you've verified that these aren't the problem, call us to schedule service right away.
Whirlpool Washer Replacement Parts
Washing machines are complex machines, and there are a number of things that could happen to cause them to malfunction; however, most clothes washer problems can be taken care of by a very simple or adjustment or repair. Water pumps are most likely the cause of drainage issues, or the timer on your Whirlpool washer could be the reason your machine is not draining properly. The timer on any washing machine typically needs to be replaced after about 10 years of use. If your Whirlpool clothes washer is not working properly for whatever reason, we have a wide array of replacement parts for Whirlpool washers, and we are sure to have the part you need. Give us a call any time your timer stops working, and our technicians are can help you resolve the issue and replace any broken parts.
Whirlpool Front Loading Washer Repair
Modern front load washing machines are easier than top loaders to troubleshoot and maintain, because, because they simply don't have as many parts that can fail. Because of this, Whirlpool front loading washing machines don't need as many repairs. But eventually, any aging appliance does need service, so whether your Whirlpool unit is front loading or top loading, you should call for repairs as soon as a problem becomes apparent. Our technicians are trained to fix any Whirlpool washing machine, so contact us any time you are having problems.
Whirlpool Washer Repair
Contact us when you need a professional repair service for your Whirlpool washing machine. At All-Pro, our friendly technicians can repair any model of Whirlpool clothes washer. We've developed a reputation for expert repairs and unbeatable customer service in Arlington, VA, Gaithersburg, MD and the surrounding area, so call us today to make an appointment with one of our experienced techs.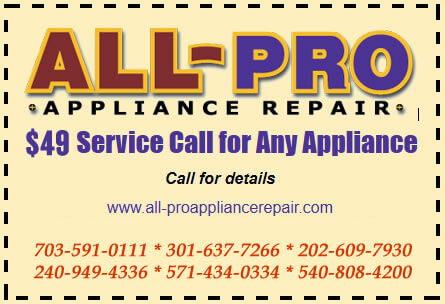 REQUEST A SERVICE CALL FROM A CERTIFIED TECHNICIAN NOW!
Why Choose All Pro Appliance Repair
We Service All Make & Models
Same-day + 24/7 service
No overtime for Weekends, Evenings & Holidays
Fully licensed and insured
New Customers, Senior citizen, Military Discount
Factory Trained Technicians
Free service calls with repair service
Over 25 Years of Experience
Fully Stocked Vehicles
We Repair it right the first time
Great Prices
Exemplary Customer Support