Welcome to All–Pro Appliance Repair
Providing quality appliance repair in Northern Virginia, Maryland &Washington DC
All–Pro Appliance Repair repairs and maintains home appliances in the greater Washington D.C. metropolitan area. Our qualified repair technicians can repair all the top brand appliances, and we are known for our exceptional customer service. Whether you need a repair or replacement part for any appliance, we are here to take care of all your appliance repair needs.
Same-Day Response in Northern Virginia Maryland & Washington DC Area
We perform the following All–Pro Appliance repair services in Northern Virginia, Maryland and Washington DC area:
Open 24/7
The appliance repair experts at All–Pro are always on hand to answer your questions and provide professional advice. We are happy to troubleshoot with you, and we always respond to appliance repair service calls as quickly as possible. We also offer 24–hour emergency services, so call us any time of day or night if you need an urgent appliance repair. Choose to work with a team of highly skilled professionals of appliance repair services Washington, DC, Virginia and Maryland. Call All–Pro Appliance Repair today!
Call immediately for 24–hour emergency service.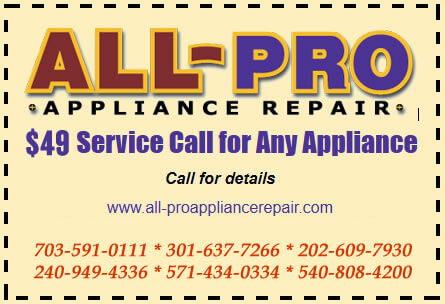 REQUEST A SERVICE CALL FROM A CERTIFIED TECHNICIAN NOW!