Washing Machine Repair Services
Are you having problems with your washing machine?
Give us a call today! All estimates are free with repair. Service call is only $49.
Your washing machine is one of the most important appliances you own. More than anything else, it represents a modern convenience that many of us would be hard pressed to do without. So, if something goes wrong with your washer, you need to act quickly to have it fixed.
That's where All–Pro Appliance Repair comes in. Our trained experts are available every day of the week to fix any clothes washer issues you may have, from a busted door latch to a leak or bad motor. Call us today to learn more about our Washington DC washing machine repair services.
---
There are a few reasons why your washing machine might get no water at all. The pipes that feed water into the machine might be clogged, the water inlet valve might not have any power, or your water–volume selector switch might be set improperly. Call a professional to check these issues if your washing machine stops working, they will be able to repair your problem quickly so aren't without a working washing machine for long.
---
As simple as it may sound, the latch on your washing machine door needs to work if you want to avoid problems such as leaks, sudden stops or simply not being able to start it in the first place. Especially if you have a newer, frontloading washing machine, that door latch is an important component of your clothes washer.
If you notice your door latch not catching every time you close it or if the hinges are getting stuck on something you cannot see, call for repair immediately before a larger problem develops and you cannot use your machine at all.
The motor in your washing machine is responsible for all of the movement of the internal drum. From spin cycles to distribution of the soap used to wash your clothes, drum movement is important for the wash cycle to work properly. This is especially important in newer washing machines that rely almost entirely on drum movement, instead of water to distribute soap.
However, the weight of all that water and clothing can take its toll over time. Eventually, the motor can be worn out, either from a lack of lubrication or because of bad bearings or a blown electrical switch. The only way to be sure is to have a professional inspect the motor and make any necessary repairs. Replacement may also be necessary depending on the severity of your motor problems.
Washing machine leaks are incredibly frustrating situations that should be avoided at all costs. Water pouring out of a washing machine can cause a tremendous amount of damage, leads to a big mess that takes a long time to clean, and on top of everything else, you'll be without a washing machine for some time. That's why, if you notice your washing machine starting to leak slightly or if it shows the smallest signs of wear, it's time to call for professional inspection in Arlington, VA,Virginia, Gaithersburg, MD, Maryland and Washington DC the surrounding area.
Only through an inspection by a Gaithersburg washer repair technicians can you be sure the problem is identified, repaired and stopped from recurring. After all the work and expense involved in the cleanup of the first leak, why leave open the potential for it to happen again?
Washer Repair Service Company
If you have even a small problem with your washing machine, it's important to call for service right away. The professionals at All–Pro always available to inspect, repair and if necessary replace your washing machine components. Book your service from our washing machine repair services company today to find out why more homeowners in Arlington, VA,Virginia, Gaithersburg, MD, Maryland and Washington DC the surrounding area. Make us their first and only call for all appliance repairs.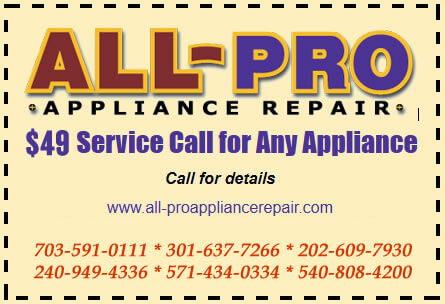 REQUEST A SERVICE CALL FROM A CERTIFIED TECHNICIAN NOW!
Why Choose All Pro Appliance Repair
We Service All Make & Models
Same-day + 24/7 service
No overtime for Weekends, Evenings & Holidays
Fully licensed and insured
New Customers, Senior citizen, Military Discount
Factory Trained Technicians
Free service calls with repair service
Over 25 Years of Experience
Fully Stocked Vehicles
We Repair it right the first time
Great Prices
Exemplary Customer Support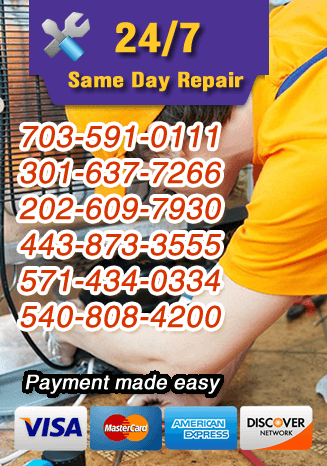 All-Pro Appliance Repair Coupons
We would like you to take advantage of our special discounts.  To get the discount, please mention the coupon code when you book the appointment.  The coupons are limited to 1 coupon per customers.  Coupons may not be used in combination with other discounts.